A unique, glistening origami-like sculptural façade greets guests arriving at a Los Angeles airport hotel via its newly renovated Porte Cochere.
Tasked with transforming the dark, dated façade of the original 1980s-era hotel arrival tunnel, Houston/Tyner, a professional architectural corporation based in Torrance, Calif., wanted to create "a showcase for the boulevard" with the nearly 300-foot long 14,950 square-foot Porte Cochere that spans the entire length of the hotel, according to Russel Tyner, AIA, NCARB, principal architect, Houston/Tyner.
"We wanted to create a very dynamic entrance for guests with a bold design that is light and uplifting and that could serve as a gateway to Los Angeles," said Tyner. "In order to completely reshape the skyline along the main corridor to LAX, we used the origami panels as a reflection of rolling, thunderous clouds while incorporating an LED thunderbolt in the facade's lighting."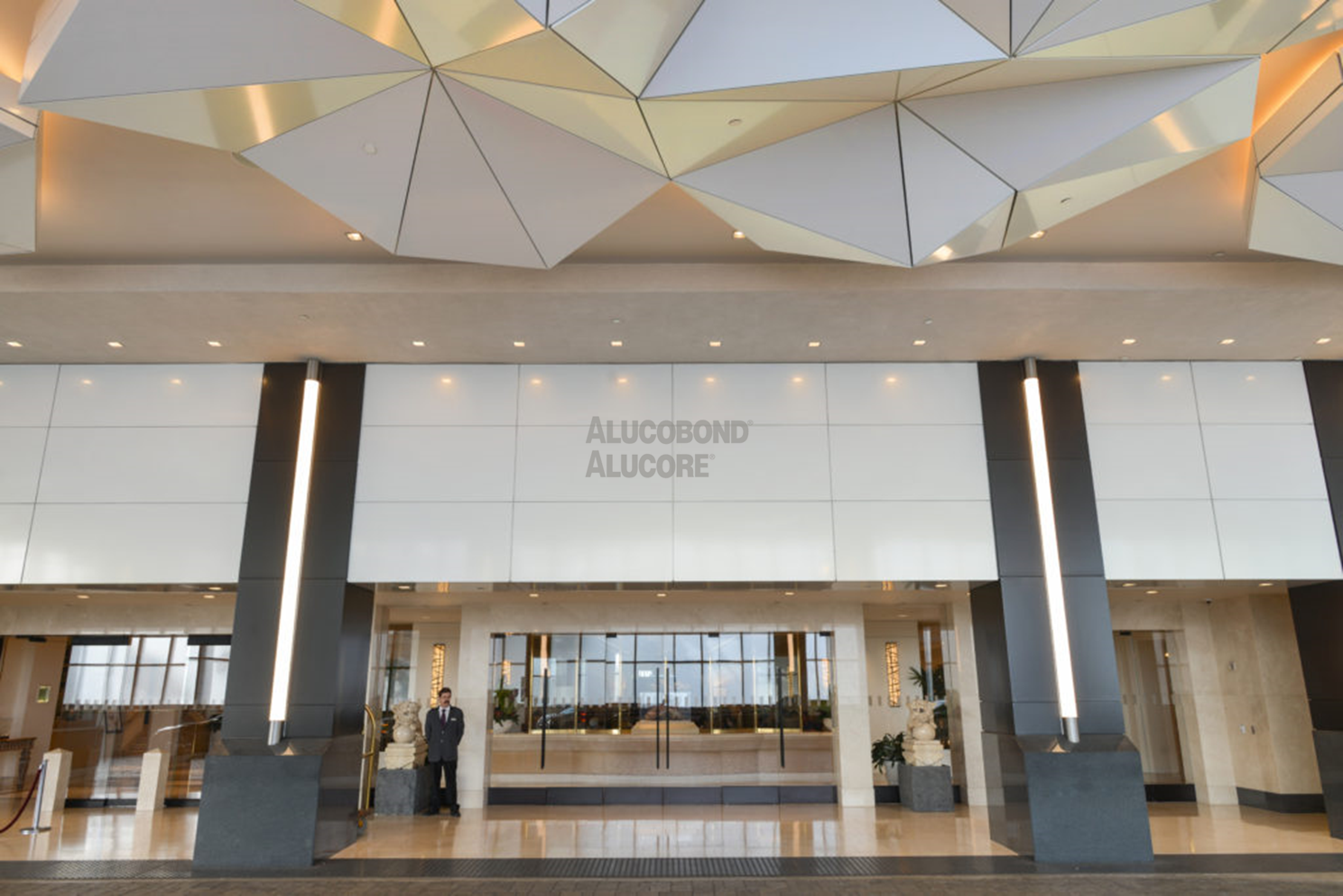 The sculptural design of the renovated Porte Cochere was created with ALUCOBOND® PLUS aluminum composite material (ACM) . A total of 16,745 square feet of 4mm ALUCOBOND® PLUS was installed as cladding, including 8,180 square feet of ALUCOBOND® PLUS in White Gold from The Spectra Collection of color-shifting finishes and 8,565 square feet of ALUCOBOND® PLUS in Brushed Carbon (previously called Brushed Graphite) from The Natural Collection's Element Series.


(As the original "aluminum composite material," ALUCOBOND® PLUS has been developed exclusively to allow architects and designers to meet the fire performance requirements of today's building standards while using ACM as the material of choice. Consisting of two sheets of smooth .020" aluminum thermo-bonded to a solid, fire retardant core, ALUCOBOND® PLUS is one component of the assembly that meets the requirements of fire classifications while offering the proven product properties such as flatness, form-ability, durability and ease of fabrication. ALUCOBOND® PLUS is manufactured in a standard 4mm thickness.)


The architects selected ALUCOBOND® PLUS in White Gold in the Spectra color-shifting finish for the Porte Cochere's exterior sculptural façade and interior walls as well as to create five chandelier-like soffit medallions that were installed from the interior ceiling.
Existing vertical columns were re-wrapped in ALUCOBOND® PLUS Brushed Carbon from The Natural Collection and highlighted with four-color LED lighting.


ALUCOBOND® PLUS Spectra colors are transitional finishes which celebrate the natural color shifts that occur in materials that affect everyday life; the subtle nuances and color contrasts found readily in nature, the glowing luster and sheen in modern metals and the color shifts found in today's luxury goods. Color adds fascination to the world; ALUCOBOND® Spectra colors add fascination to architectural design. ALUCOBOND® PLUS Natural colors amplify the natural beauty and character of many natural elements to enhance the design of your architectural project while maintaining the durability and lightweight properties of aluminum.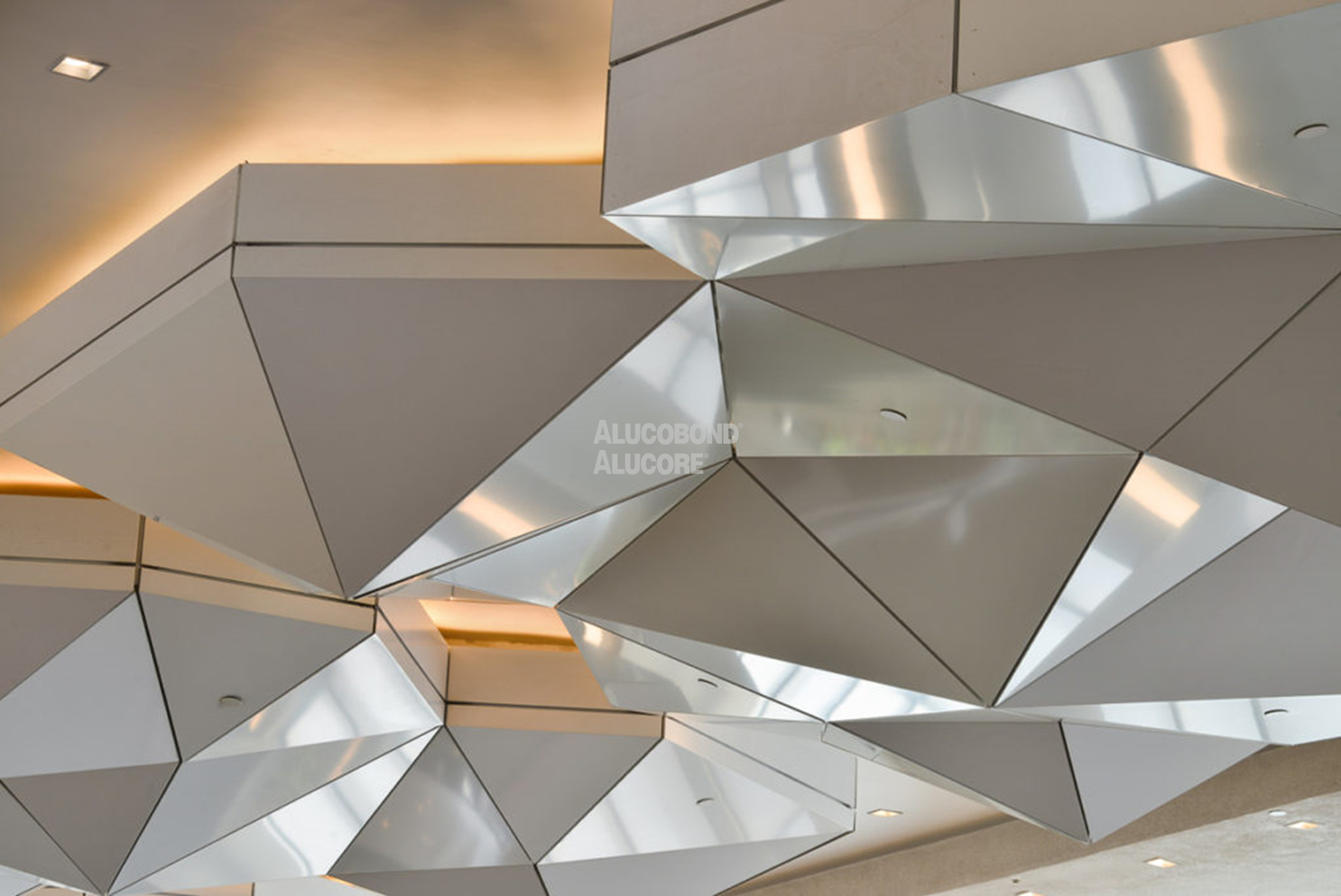 "One of the things we love about the origami panels is their varying, dynamic surfaces that allow light to reflect and create abstract and ever-changing shadows – like those of clouds rolling across the sky. The color-changing illusion of the White Gold further enhanced our vision for the origami panels, while the Brushed Carbon created a perfectly balanced contrast. When selecting the panel colors, it was also important to us that we stay mindful of our renovation's impact on the existing building. We feel that the carbon color compliments the original building and creates a seamless transition into our new Porte Cochere."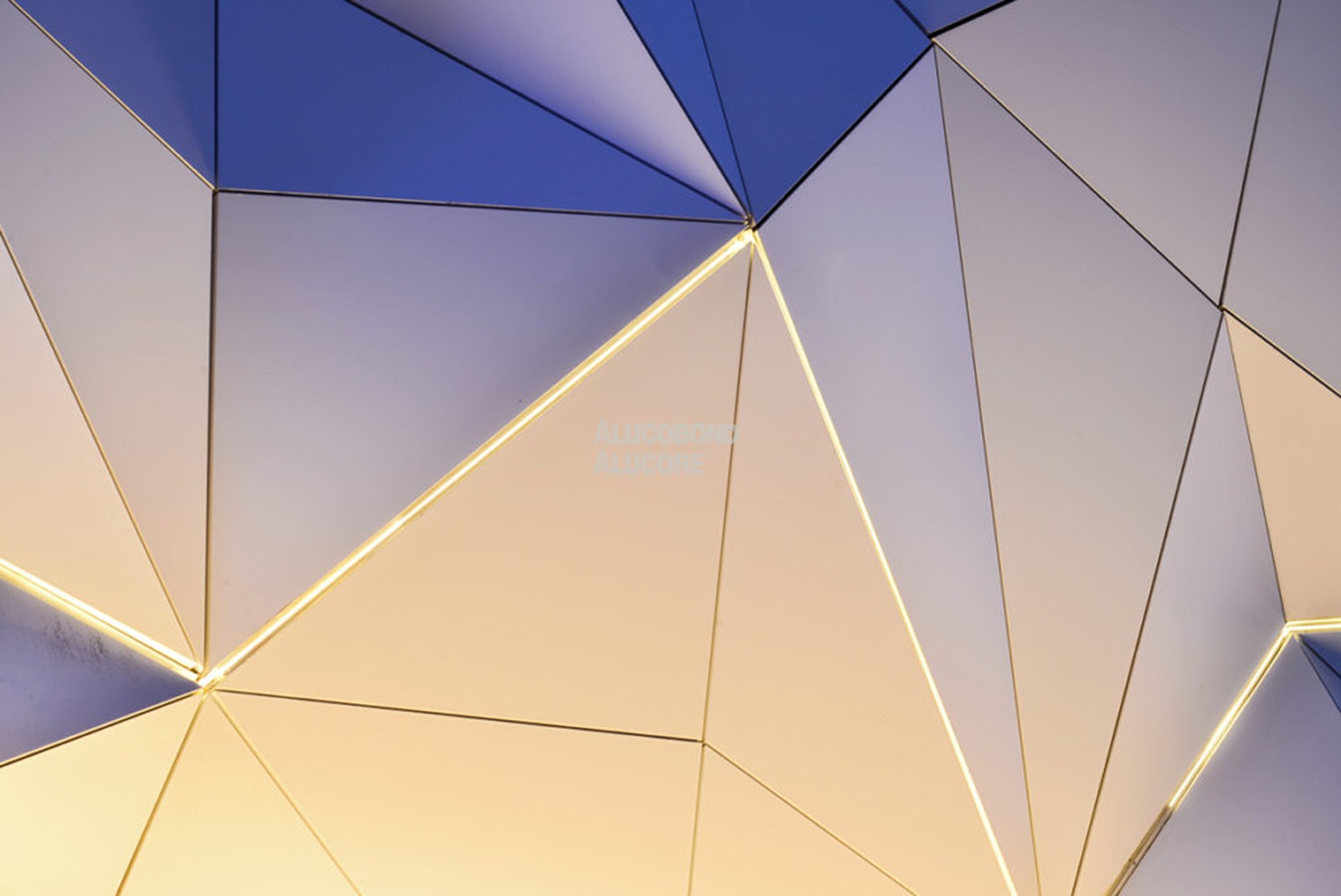 The renovated Porte Cochere opened in June 2018.
"Our clients wanted to create a vibrant, light-filled Porte Cochere that would be timeless," said Tyner. "They were very pleased with our design. Overall, we think people love it. It's a very energetic and happy place."ng>